Trekking-Kayaking/Sup paddling-Camping-Canyoning
- This exclusive tour  is a great combination of jungle Canyoning, trekking, , swimming, SUP paddling/kayaking and camping overnight. 
---
►Highlights
- Canyoning- the best thing to do in Dalat
- Relish in the moment as the dawn is breaking over the lush hills, shining the first light of the day through a fog
- Delight in a competitive rowing experience and explore Tuyen Lam Lake in a different light
- Spend the night with scrumptious BBQ dinner,local wine...
- Partake in a light and fun 6-kilometer trekking.
---
►Day 1: 
-08:00-08:30 Starting from our office or at your hotel, guide and driver will take you to beautiful mountain. 
-08:30-09:00 Participants get ready for trekking. 
-09:00-11:30 Participants go on a 6-kilometer trek. 
---
►About 6km In Hiking,Through Small Village And Evergreen Pine Forest To Thick Broad-Leaf Jungle And Head Up To The Top Of Samson Mountain, One Of The Most Beautiful Spots For Pictures In Da Lat, Where You Can See The Fantastic Views Of Da Lat's Town And Surrounding Area, With Stunning Views Of Langbian Mountain Further.
►The Reward For The Trek Is There Is A Wide Of Flora And Fauna Where You Can See Hundred Years Old Trees Surrounded By Venis Or Some Wild Roaming Animals Hide Somewhere In The Wood.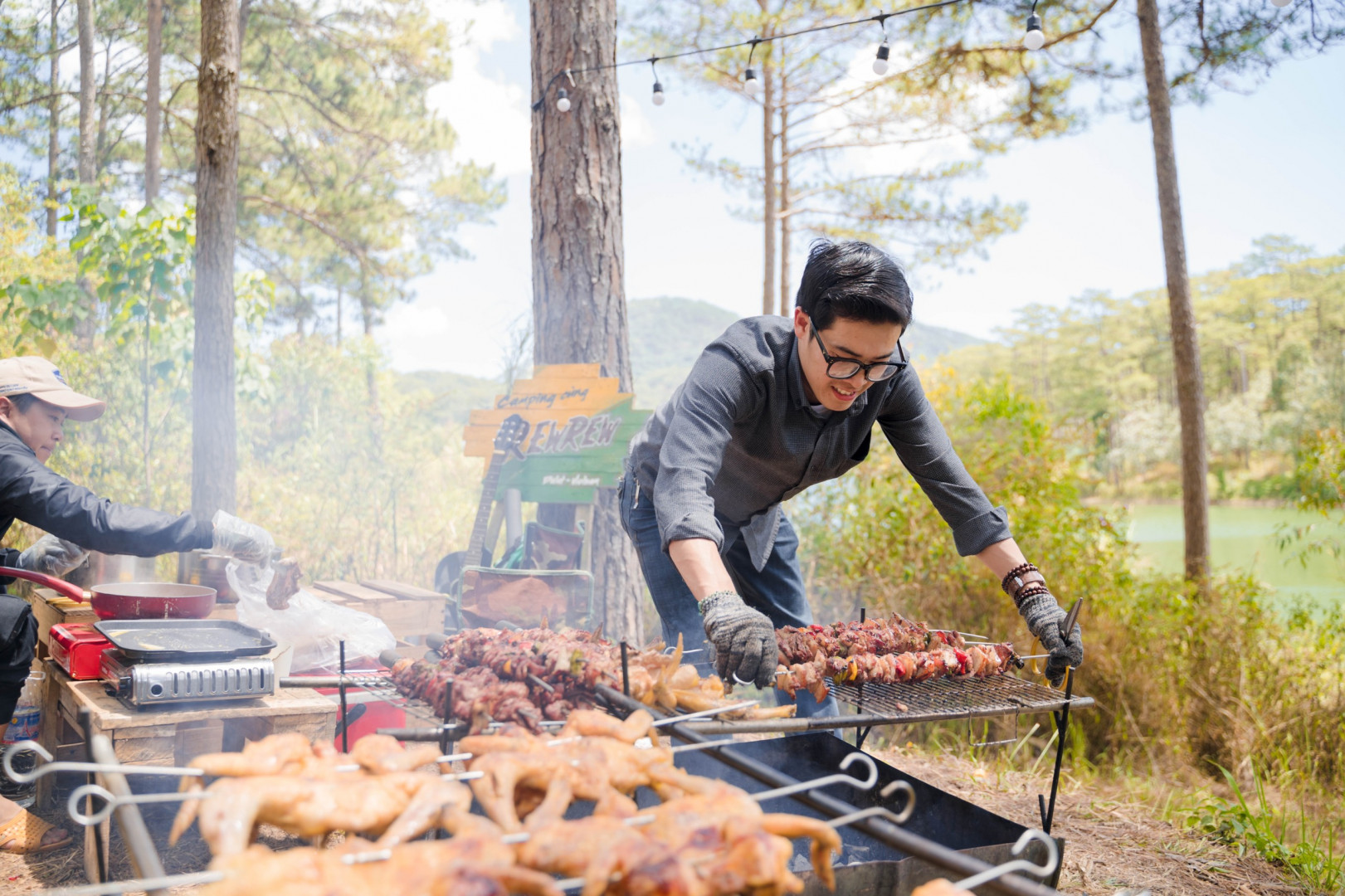 ---
12:30: After About 3 Hours Of Exploring You Make Your Way Out To The Far End Of The Lake For Lunch. A Picnic Style Lunch, Taking Advantage Of The Many Fruits And Vegetable Grown In The Dalat Area Is Prepared By The Guide.
13h:30 After That, We Reach On Sup. We Spend The Rest Of The Day Exploring The Many Inlets And Secrets Spots On The Lake. After About 2 Hours
15:30-18:30 Partake in camping activities. Try your hand at buidling the tent, finding kindling to light a campfire, and preparing for the BBQ dinner. 
Enjoy a light late afternoon snack with bread, butter, coffee, etc. 
18:30-20:00 Time to enjoy your scrumptious BBQ buffet and start making memories. Feel the comforting warmth from within as you sip on wine or Vietnamese liquor in the chilling weather of the Central Highlands. 
Your BBQ dinner includes:, grilled chicken, pork, prawns, salad, fruits, bamboo rice, etc. 
20:00-22:00 Build a roaring campfire and based on your own preference, you are free to choose to do one of the following activities: 
- Have a chat with your fellow campers as you are sitting by the campfire, grilling corn and sweet potatoes 
- Get your Gram game on as you take photos by the main camp area, decorated with dreamy fairy lights  
- Have a little time to yourself in your tent, where you are provided with comfy chairs and private space 
22:00-05:00 Rest for the night.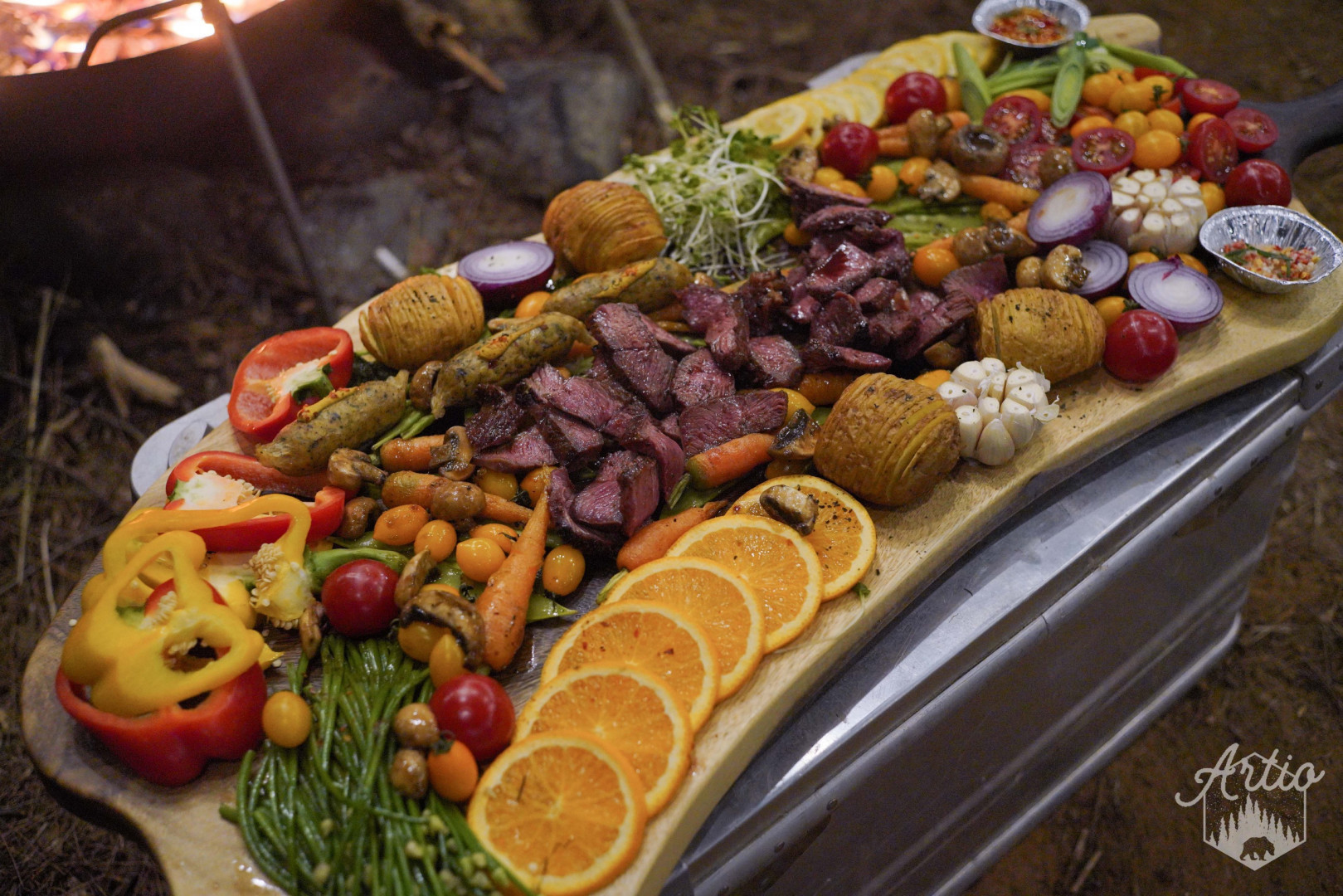 ---
►DAY 2: Canyoning- Be Crazy, Don't Be Lazy
 6am: Wake up and enjoy the beautiful scenery of Tuyen Lam lake in the morning.
7:00 Have breakfast with instant noodles or bread with butter, and coffee or tea. 
8am: Together cleaning tents, garbage, then tour guide will take to the Canyoning Base Camp.
One-day trip, South of Da Lat, where you will navigate your way through a canyon and learn how to use the ropes. Water Abseiling / Canyoning is one of the most modern adventure sports that allow you to discover the wonders and mysteries of nature in its purest form. Trekking, jumping and swimming, you will discover fantastic canyons and face the challenges of incredible gorges. During this unique journey of unforgettable experiences you will be accompanied by Canyoning professionals and expert guides.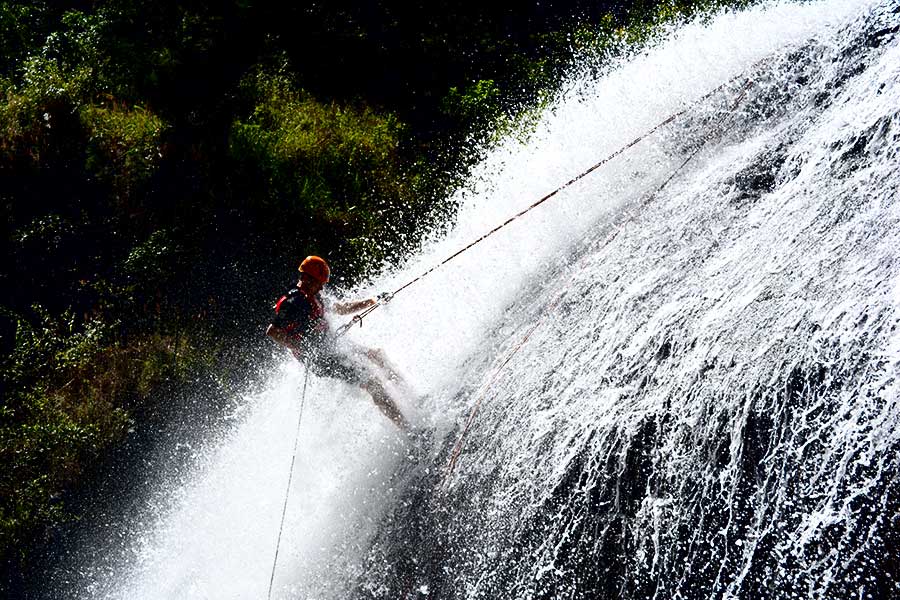 -STATION 1: Training
-STATION 2: 18m dry cliff
-STATION 3:  Ziplining
-STATION 4: Nature watersliding
-STATION 5: 25m Waterfall cliff
-STATION 6: 7m FreeJumping
-STATION 7: "WASHING MACHINE"
The canyoning tour ends at 15:00
---
PRICE: 
-3315.000vnd/pax ( group of 2 people)
-3165.000vnd/pas ( group3-5 people)
-3100.000vnd/pax (>6 people)
(The price is not appy for luner new year...)
-What is Included:
English speaking guide, all necessary forest and tourist permits, first aid kit, meal(s), BBQ (grilled pork, grilled chicken, corn, potatoes),  Kayak/Sup and vehicle transfer. Shuttle bus at the hotel,
-What is not Included:
Personal major medical including evacuation insurance coverage is recommended.
Other personal expenses out of program